Party Events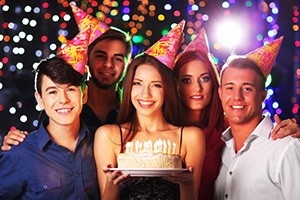 With our luxury fleet of vehicles, you can choose any vehicle to surprise your guests in. We want to help you make a grand entrance on your birthday. It is very important for the birthday person to stand out from everyone else. With our luxury vehicles, you will definitely be noticed. Our limousines are equipped with neon lights both inside and outside of the vehicle. There are also laser lights and an advance stereo system in all of our vehicles. We go above and beyond to ensure that you are completely satisfied on your birthday.
If you are planning on taking your birthday parties on the road, then we have exactly what you need. Our limousines are completely full of the amenities that are needed to have fun. Our limousines have an ice well that is great to keep your drinks cold. You can watch a movie on our flat screen TV's while our chauffeur is driving you to your destination. With the laser light show and great music playing through our sound system, you are guaranteed to have a great time.
Depending on how extravagant your party is, we have a vehicle that suit every person. Some of our limousines do not need long term advance reservations. Unless you are expecting to have a birthday party around a holiday or Prom season, then we would normally have a vehicle for your last minute or spur of the moment, plans. However, it is always a good option to be prepared. If you know the amount of passengers you will be having, it is nice to reserve a limousine. We try to tell our customers not to wait until the last minute. There is no worse feeling than trying to find the right limousine at the last minute. We want you to enjoy all of your birthday parties in style.