Weddings & Anniversaries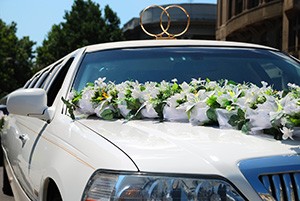 We love to hear about Weddings & Anniversaries! That is a day that you will always remember. We want to help make that day extra special. From choosing your stunning wedding dress to deciding the bridal party, your big day can be very overwhelming. At West Florida Limousines of Sarasota, we can eliminate some of the stress. By providing transportation for everyone in the wedding party, you can now focus on the important things. With all Weddings & Anniversaries, the main focus is arriving at the venue on time. Depending on how large your wedding party is, we have multiple vehicles that be reserved for the same. Normally for Weddings & Anniversaries, there are two limousines for bride party and groom party. Depending upon what the bride and groom want to drive away in, we can also provide our luxury limousine service. When the wedding is completed, the real party begins. With our larger stretch limousines, you can ride away in a luxury vehicle with a party on the inside. From our loud sound system to our laser lights, your entire wedding party can enjoy the ride as our chauffeur takes you to your destination. The tinted windows adds privacy while you are travelling.
Weddings and Anniversaries are our biggest requests for our luxury limousine service.Anniversaries are also an important day as well. It is always nice to get away and relax just the two of you. We want to make that happen. Our fleet of vehicles can provide you with as much luxury as you want. We have various vehicle types and styles depending on what you are looking for. Whether you would like a romantic night out or even a fun limousine ride around the Sarasota area, we can provide you with our best service. Our chauffeurs will pick the passengers up at your current location and take you to the destination of your choice. You can enjoy a nice scenic ride around the Sarasota area or even enjoy a romantic dinner at your favorite restaurant. The choice is yours.
It is our pleasure to provide services for Weddings & Anniversaries. Let us turn your special day into a memorable day. You will feel like luxury when you step out of our limousines on your special day. We want to enjoy that moment with you. Knowing that our limousine service helped enhance your night lets us know we did our jobs properly.