Concerts & Shows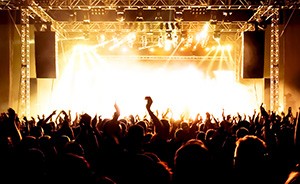 Who would turn down a chance to go to a concert? Not me either! At West Florida Limousines of Sarasota, we have all been to a few concerts or two in our lifetime. So it doesn't surprise us when we hear groups of people wanting a limousine to take them to their concerts. The worst part about a show is finding parking and finding your seat. We can't find your designated seat for you but we can eliminate the parking issues. Once we have arrived at your destination, we are able to bypass all traffic and drop all passengers off at the main gate or front door. This not only saves you time in line but also saves you the possibility of being late. One of the best qualities of our chauffeurs is that they are never late. Our chauffeurs will always drive safely and get you to your destination in a timely manner. There is nothing worse than walking into concerts that has already started.
We know that everyone likes to have fun when your at any type of concerts. So why worry about a designated driver when you could have a chauffeur? Our party buses are loaded with fun lights, great music and alcohol. It is our mission to provide you and your friends a great ride to your destination. As much fun as we know everyone can have, it is also our goal to ensure the safety of all passengers in our vehicles. When liquor is involved, many unsuspecting things could happen. By having a chauffeur drive you allow you to not be the responsible person driving while under the influence. This lowers the amount of drunk drivers on the road. Even with that said, we still try to maintain a safe environment for all passengers inside our limousines. Make safe decisions and call us, West Florida Limousines of Sarasota. Not only do we provide a great time, but you can also show up in a luxury limousine.
With several vehicles to chose from our Fleet, you and your friends are able to arrive in style. Most of our stretch limousines come equipped with amazing laser lights, neon lights and a stereo system that is out of this world! Even if you are looking for something more modern and not so flashy, we have vehicles that can fit any persons needs. From luxury to classic, we guarantee that you will enjoy our limousine services to your concerts.