SRQ Sarasota Airport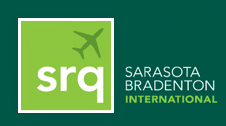 Click picture above for flight times.
Sarasota Airport Transportation. As beautiful as this Sarasota Airport is, there is a strong history behind it. With first starting out as a training base camp in 1942, this great Sarasota Airport has grown over the decades to follow. As the Sarasota area evolves, so does the population and economy. That is when the Sarasota Airport decided to expand. This allows added space for the millions of passengers that will fly through this airport each year. With over 10 commercial companies flying in and out of this Sarasota Airport, there is never a dull moment. These airlines work every day to ensure that all passengers get to their destination in a safe and timely manner. Most important is safety.
One of the most requested destination spots in the World is Florida. Not only is it a large vacation spot on the map, but Sarasota is now growing with full time residents. In Florida, there are numerous attractions that will catch your eye in every city. Our beautiful beaches are beyond belief. It is definitely a must see travel. There are numerous ways to travel around the Sarasota area. Once you have landed at the Sarasota Airport, you will have our chauffeur waiting for you and your family. This is great for those long flights. Normally when you land, you are pretty exhausted. Let our chauffeurs take you to the hotel to relax and begin your vacation. When you are ready to go out and venture into the Sarasota are, we will provide you with transportation.
This beautiful area has so many things to offer. From the breathtaking beaches, fun and crazy theme parks, and the large shopping malls, you will always be entertained. At West Florida Limousines of Sarasota, we can offer you luxury limousine services at any time. Our chauffeurs will drive you around the town to your destination in style. You can have a romantic dinner at our famous restaurants or have our chauffeurs show you a tour of the town. Either way you can be reassured that you are in great hands. Our professional chauffeurs know where the fun is to have a good time while on vacation.
The Sarasota Airport has many local artwork from students around the local area. As you are waiting to aboard you plane you can view all of the pictures that are on display. With other great amenities that are located around the Sarasota Airport, you are able to relieve some stress before flying or stop in to relax after a long flight. There are so many options for you once your plane has landed at the Sarasota Airport.
With all of the tourist information centers that we have, you can quickly locate any destination within a matter of minutes. With Sarasota being one of the largest vacation spots, flying around the area is a great way to see it all. There are private planes that can take you all over Sarasota and other surrounding counties. The beautiful views and scenery will give you a lifetime of memories. Take a trip and fly to the Sarasota Airport today. There are so many attractions and things to do in this quiet, beautiful area. Enjoy the great sunny weather every day.