Prom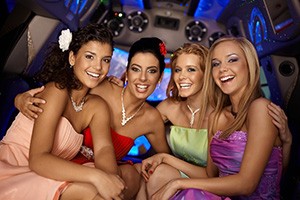 The most important time in a young adults life seems to be Prom and Graduation. These two milestones will always be a great memory in your child's life. So why not make the best of it. All parents seem to panic around this time. What type of dress do we buy? How much is it going to cost? What size tuxedo does my son need? How much is it going to cost me to rent a limousine? We know how stressful this time can be for a parent. The last thing you need to worry about is transportation. Every young adult wants to impress their friends on Prom night. The best part of the night that everyone talks about is what type of limousine did your parents rent? That is where West Florida Limousines of Sarasota comes in. There is no need to spend hundreds of dollars on an outfit and a rental. With our affordable vehicles, you and your friends could arrive at Prom in a luxury stretch limousine. We truly have a vehicle that fits around any budget.
Graduation is also a big day for your child. All dressed in their cap and gown ready to walk down the isle. But how are you going to get to the venue? Are your parents going to pick you up? Lets us take the guess work out of the picture. Our luxury limousines are designed to have fun while travelling. We want you to enjoy yourself with your friends while you are driving to the venue. Not only are the seats comfortable, but the seating arrangements allows all passengers to be able to talk to conversate together. With our loud sound system and neon lights, it is hard to take your eyes off of limousines. If you are looking for attention, then you are at the right place.
Another benefit of having a limousine service is knowing that your child is safe. You do not have to worry if your child has made it to the hotel after Prom. Our chauffeurs will take them from their current location and drop them off at their designated destination. By eliminating that fear of someone driving under the influence, you as a parent can relax a little more. So whether it is a formal dance, Prom or Graduation night, let your child enjoy our limousine service at an affordable price.